NOW LOOKING FORWARD TO ITS' 5TH YEAR, SOS FESTIVAL IS BACK!
**** TICKETS ONLY £10 FOR A SINGLE DAY & £15 FOR TWO DAYS ****

* ALL AGES WELCOME * AMPLE FREE PARKING * EASY TRANSPORT LINKS *
NEARBY BARGAIN HOTELS * MAIN STAGE & ACOUSTIC STAGE * DRINKS PROMOS

"NWOBHM legends" is perhaps a phrase thrown around a little too often in the 21st century but this is one of the fully deserving & appropriate cases, not least because of this band's original impact on the metal scene of the early 1980s but also due to the dignified & quietly confident way they've worked their way back during the past few years since re-grouping.
You only have to look at the press coverage of the band's last full album, 2008's "Animal Instinct", to appreciate the Tygers' current position....
"a pedigree album, combining the rough 'n' readiness of the early Wild Cat-era of the band with the glossy approach when they had John Sykes on guitar.. if I was thinking of buying Good To Be Bad (Whitesnake), Songs From The Sparkle Lounge (Def Leppard) or Animal Instinct & I only had enough money for one CD, I might just plump for this one" 8/10. Geoff Barton, Classic Rock.
Tygers Of Pan Tang are looking towards their new album release in April 2012.

www.tygersofpantang.com/official/

---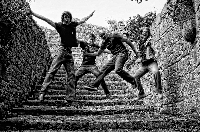 A video which reached the No.1 spot on the Kerrang TV Chart Request Show, support slots with Blaze Bayley (Iron Maiden/Wolfsbane), Esoterica, Dave Evans (AC/DC), The Black Mollys, Forever Never, Witchfynde & Black Spiders, plus a full UK Tour with Marseille, a successful debut album, a tour in Finland, & a place at Hard Rock Hell Ibiza Road Trip.... with all this you could be forgiven for thinking Exit State has been around for years. However, the early success of their high octane sound has been almost immediate, not least due to their crossover appeal to rock, metal, pop, punk, indie & alternative crowds alike.
2nd album "Black Veins" was released to critical acclaim in October 2011, with a UK tour following, with a fitting finale at Hard Rock Hell in December. Exit State show no signs of slowing down.
---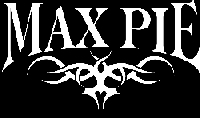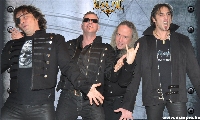 Started in 2005 in Belgium with the goal to play songs by legends like AC/DC, Deep Purple & Whitesnake, MAX PIE played as a cover band until 2009. Finding a solid line-up & the desire to create their own songs, the band started writing original material influenced by the Heavy/prog/metal scene & characterized by power, aggressive, melodic & progressive elements. The result was a first full length album "Initial Process", including 8 tracks of pure emotion & Heavy Prog metal as its best. For fans of Rhapsody, Kamelot,
Symphony X.
---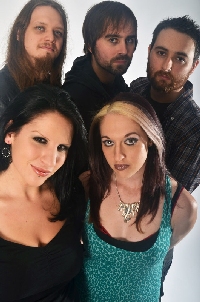 Hailing from Manchester, Gone Til Winter have been steadily building a growing & loyal fan-base over the last few years, with their brand of melodic, progressive, gothic tinged metal spreading across the underground. The band continued their momentum into 2008 with a busy gigging schedule which saw supports with I-DEF-I, Forever Never & Blaze Bayley.
Gone Til Winter's debut single 'Hear Me' was released on May 11th 2009 in the UK via Headroom Records & Worldwide via iTunes with a self titled mini-album to follow in the September. The band is looking to release a 2nd album in 2012.
"they show some serious promise at being home-grown competition in the female-fronted, bodice-ripping, goth metal department" Bruce Dickinson
"graceful yet with enough clout to guarantee heads are banging" Room Thirteen
http://www.facebook.com/gonetilwintermusic
---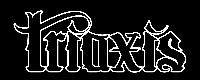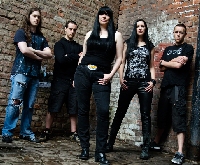 Triaxis, a heavy metal band from South Wales, formed in 2006, & released their EP 'Lord of the Northern Sky' in 2008 - that sold out following its' exceptionally positive reception worldwide. Triaxis then self-released their debut full-length album Key To The Kingdom in 2009, winning plaudits from Metal Hammer, Terrorizer, Zero Tolerance & more.
After headline grabbing sets at Bloodstock Open Air in 2009 & Hammerfest III in 2011, the band have continued to gig extensively across the UK & recently finished recording their 2nd album, under the watchful eye of producer Chris Fielding (Primordial, Electric Wizard).
---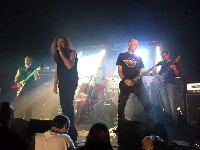 Wizzard, from Belgium, have established themselves increasingly over the past few years with growing numbers of fans both at home & in the UK. As well as a mini-tour of the UK in 2009, they played SOS Festival 2011, with a great response & have been invited back for 2012. Wizzard play no-nonsense hard rock/classic metal, with NWOBHM influences.
http://www.facebook.com/#!/pages/WIZZARD/174843133257
---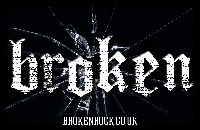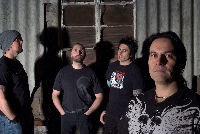 The perfect mix of hard rock swagger & groove metal riffs are brought together by Jim Moore's powerful vocals & Neil Morris's awesome guitar playing. Backed up by the tight rhythm machine of Jon Iliffe on drums & Fraser on bass, Broken create truly infectious, kick ass grooves! Born from the ashes of an existing Wakefield based band, Neil & Fraser were re-united with Jim & late in 2009 discovered Jon who completed the current line up. Wasting no time they began writing hard & played their first gig in December 2009. Going from strength to strength as a live force whilst continuing to develop their sound with new material, Broken have gathered a strong & loyal following.
http://www.brokenrock.co.uk/site/page.php?6
More features on the bands coming soon....