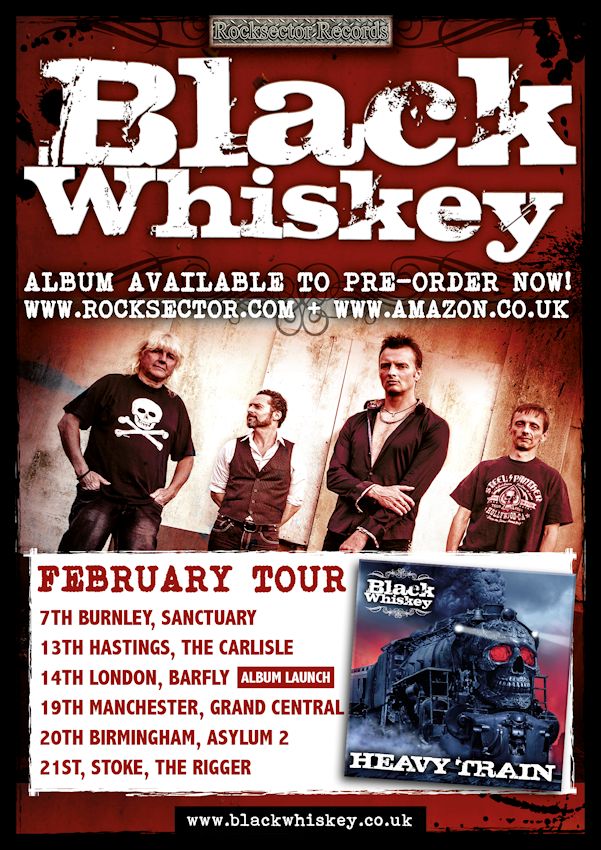 ---
PRESS RELEASE 15TH DECEMBER 2014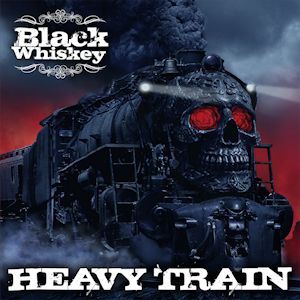 BLACK WHISKEY REVEAL ARTWORK & A NEW SONG FROM THE FORTHCOMING "HEAVY TRAIN" ALBUM
With artwork reproduced by kind permission of fantasy artist Steve Stone who's worked on behalf of the likes of Iron Maiden, author Stephen King & Fox TV's The Walking Dead, the album "Heavy Train" looks as good as it sounds. The album is set for release on 9th February 2015 & a new song "All Seeing Eye" is also unveiled today at www.soundcloud.com/rocksector
READ THE FULL PRESS RELEASE HERE

---

PRESS RELEASE 2ND JULY 2014
Classic rockers BLACK WHISKEY, fronted by former Xentrix and Hellfighter vocalist Simon Gordon, sign with Rocksector Records for debut album release
Black Whiskey, based in Surrey (UK), and formed by the former Xentrix and Hellfighter vocalist, Simon Gordon, have signed with Rocksector Records for their debut album release in late 2014.
Over the years the band members have been involved in genres as diverse as NWOBHM, Thrash Metal, Blues, Alt Rock and Prog Rock but when Gordon (vocals / ex-Xentrix and Hellfighter), Kev Ingles (guitar / ex- 3 State Blues and Weapon), Mark T. Parkin (bass, legendary producer Steve Booker's band) and Rich Bannister (drums / ex-Nakedium) spoke about putting a band together, the common ground was Classic Rock.
Black Whiskey draw their influences from the timeless sounds of the 70s and 80s ranging from Led Zeppelin, Free, UFO, Thin Lizzy and The Scorpions. Their songs are delivered with heart and authenticity, from the powerful, soulful vocals to the blues-soaked guitar, all underpinned by the solid groove of the powerhouse rhythm section.
Simon Gordon was vocalist in Xentrix from 1994-1997, during which time the band toured and released the album "Scourge". In 2008 he formed Hellfighter with former Xentrix bandmates Kristian Havard and Dennis Gasser, releasing the album "Damnation's Wings" in 2009.
Mark Appleton, label manager at Rocksector says "I've known Simon for a few years now, having first seen him play live in Manchester. His ability and versatility are obvious to all who've heard him and when he approached me with a view to helping with this Black Whiskey release, frankly it took seconds to come up with an answer. He's assembled a quality line-up that delivers a sound which is as fresh and exciting as it is classic"
A UK Tour is planned for November and meanwhile the band have confirmed a UK festival appearance at Rock and Metal Circus on 14th September and are special guests with NWOBHM legends Chrome Molly on 25th October at the Rock Den in Hatfield.
A free song "Stone Cold Comfort" is now available from Soundcloud HERE
Band website : www.facebook.com/blackwhiskeyuk
For interviews/reviews/airplay please email Lynne Hampson at Rocksector Records - lynnepr99(at)yahoo.co.uk