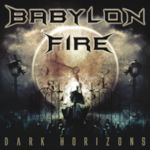 "DARK HORIZONS" ALBUM
RELEASED 12TH NOVEMBER 2012
1. The Clarion Call 2. Darkness Draws Me In
3. Blood In Blood Out 4. Stripped Away
5. Demonocracy 6. Shattered Crown
7. Gates To Oblivion 8. Wrath Of The Fallen
9. Cycle Of Addiction 10. Within The Mouth Of Madness
11. Rise Through Babylon 12. I Still Remember
AMAZON.DE | AMAZON.FR | HMV JAPAN

8th July 2014 : BABYLON FIRE confirmed to play the Sophie Lancaster at Bloodstock Open Air, 2014. Read more....
"like some bastardised Hell Yeah off-shoot.. a solid, involving metal offering" Metal Hammer
"a great metal album, & given the right exposure, Babylon Fire could go far" 8/10 Powerplay
"excellent debut album" 8.5/10. Planet Mosh. Read more....
"this isn't just an album you should get out & check out, this is an album you should tell all your friends about, buy people for Christmas & use it to remind yourself what proper music sounds like" Loud Stuff
"It's hard to believe that this album is the band's debut, it really does sound so accomplished.. a really strong debut album from a very promising British band" Sinister Angels Realm Read more....
"an album with a few tricks up its' sleeve & as a result is well worth a listen, especially if you're in the mood for an album you can sing along with, go crazy to & raise your fist high for!" Destructive Music. Read more....
"great heavy metal with good pace" Metal To Infinity. Read more....
For interviews/reviews/airplay please email Lynne Hampson at Rocksector Records - lynnepr99(at)yahoo.co.uk

<![if !supportLineBreakNewLine]> ================================================<![endif]>
<![if !supportLineBreakNewLine]> BABYLON FIRE : EUROPEAN TOUR as special guests with Absolva<![endif]>
<![if !supportLineBreakNewLine]> 5TH SEPT - 3RD OCT 2014 : CLICK HERE FOR TOUR DETAILS<![endif]>
================================================<![if !supportLineBreakNewLine]>
<![endif]>

STREAM / FREE DOWNLOAD OF 2 SONGS FROM THE "DARK HORIZONS" ALBUM

WATCH THE "BLOOD IN, BLOOD OUT" VIDEO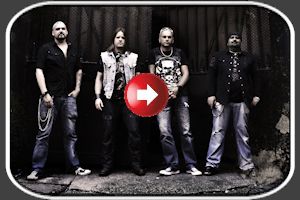 Join & "like" Rocksector on

Facebook
Follow Rocksector on

Twitter