16th October 2014 : AVENGER reveal album artwork for the upcoming brand new album release "The Slaughter Never Stops", with newly scheduled release date 1st December & new song "In Arcadia Go" for free mp3 download.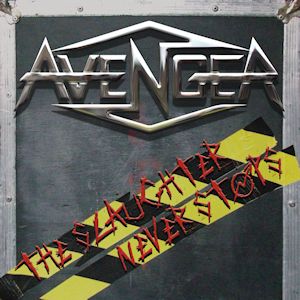 Artwork by Liam Thompson
"THE SLAUGHTER NEVER STOPS" IS AVAILABLE FOR PRE-ORDER NOW AS LIMITED EDITION FANPACK INCLUDING CD, PATCH, COMMEMORATIVE POSTCARDS, POSTER & CUSTOM GUITAR PICK. THE FANPACK IS NOW SOLD-OUT - PLEASE CLICK HERE FOR STANDARD CD DETAILS
OR visit Amazon here....

7th May 2014 : PRESS RELEASE
NWOBHM legends AVENGER sign with Rocksector Records for the release of a brand new album "The Slaughter Never Stops"
Avenger have signed with Rocksector Records to release their 3rd album "The Slaughter Never Stops" on 1st September 2014, their first new release since 1985's "Killer Elite"

Brian Ross, Mick Moore and Gary Young founded Avenger late in 1982 following the break-up of Blitzkrieg. Their debut single "Too Wild To Tame" followed in October 1983. Shortly after, lead singer Brian Ross left to join Satan, whilst Satan's singer Ian Swift made the opposite move to join Avenger and so the band's classic line-up released a debut album "Blood Sports" in 1984 on Neat Records and toured Europe extensively.
The band's 2nd album "Killer Elite" was released in 1985, again on Neat Records, along with 3 music videos and later a tour of the United States, yet after returning to England the band split, with Ian Swift joining Atomkraft and Gary Young later joining Blitzkrieg.
Avenger's entire discography was re-released in 2002/2003 by Sanctuary Records, the band re-formed in 2005 and has since toured across Europe with US rockers Y&T, also appearing alongside Twisted Sister, Candlemass, Saxon, Diamond Head and Raven.
Now re-united with classic line-up vocalist Ian Swift, a new chapter begins with shows across Europe and a highly anticipated new album "The Slaughter Never Stops" set for worldwide release on Rocksector Records in September 2014.
Mark Appleton of Rocksector Records says "Hooking up with Avenger is an exciting step. On the one hand the new album is of course a much anticipated event from a band with history and heritage, but also when listening to the song Fate, available now as a free download, it's clear how relevant and vibrant this music remains".
Avenger are:
Ian Swift - lead vocals
Sean Jefferies - guitar
Liam Thompson - guitar, backing vocals
Ian Fulton - bass, backing vocals
Gary Young - drums, backing vocals
"The Slaughter Never Stops" was recorded at Blast Studios (Newcastle, UK) and Leather Bear Studios (Sunderland, UK). Engineered and mixed by Dean Thompson.
The track "Fate", from the new album, is available now as a free mp3 at Soundcloud HERE
The music video "Revenge Attack" (from the "Killer Elite" album of 1985) is available to watch HERE
Band website: www.avenger-uk.com
For interviews/reviews/airplay please email Lynne Hampson at Rocksector Records - lynnepr99(at)yahoo.co.uk
<![if !supportLineBreakNewLine]>
<![endif]>
WATCH THE VIDEO "KILLERS" : IRON MAIDEN COVER
(from the new album "The Slaughter Never Stops")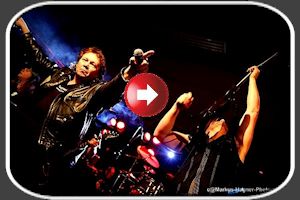 FREE MP3 DOWNLOADS....
WATCH THE VIDEO "REVENGE ATTACK"
(from the "Killer Elite" album of 1985)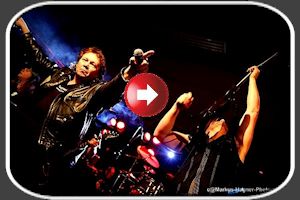 "The Slaughter Never Stops" - release date 1st December 2014
1. Mace Imperial
2. Race Against Time
3. Fate
4. Fields of the Burnt
5. Into The Nexus
6. Decimated
7. In Arcadia Go!
8. Killers (Iron Maiden cover)
9. Flayer Psychosis
10. Shot To Hell
11. Midnight Mass Destruction


Join & "like" Rocksector on

Facebook
Follow Rocksector on

Twitter