PRESS RELEASE : 2ND APRIL 2012
OCTOBER SKY SIGN WITH ROCKSECTOR RECORDS FOR THE RELEASE OF FORTHCOMING ALBUM "THE APHOTIC SEASON"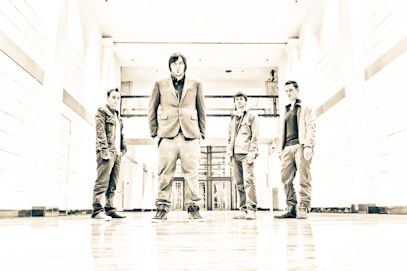 We're excited to announce that Canadian band October Sky has signed with Rocksector Records for the release of their forthcoming album "The Aphotic Season" on June 18th 2012.
Originating from Montreal, this quartet has released one EP & one award-winning full length album to-date ("Hell Isn't My Home") & have toured with the likes of Bad Religion & Alexisonfire. Their style is a supreme combination of epic rock atmospheres & ambient alternative, with the massive appeal of infectiously memorable hooks & choruses.
As well as widespread & regular rotation on radio in Canada the band has also been featured on Canadian TV, twice showcased at major conferences in Canada in 2011 (CMW & NXNE) & received early praise in the UK following radio airplay on NME & playing London showcases with Discovery Talent, not to mention an acclaimed performance at Birmingham O2 Academy.
Championed by the respected former-Kerrang DJ Emma Scott & managed by Liza Buddy of Chaos & Bedlam, October Sky has already begun to get a foothold in the UK & Rocksector is delighted to now become involved with helping the band take its' next significant steps forward by releasing "The Aphotic Season" into UK & Europe.
The band is due to showcase at the Great Escape music festival in Brighton on 12th May, whilst UK Tour dates are in planning & will be announced soon, as the band will be fully promoting the new record with an extended stay in the UK for most of 2012.
The opening track "Dark Vision" from the album is available to listen now....
---
Contacts
Label : Mark Appleton (Rocksector Records) mark_apps(at)yahoo.co.uk
Management : Liza Buddy (Chaos & Bedlam) liza(at)chaosandbedlam.com

---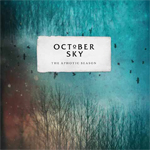 October Sky "The Aphotic Season"
Released 18th June 2012 on Rocksector Records

1. Dark Vision 2. Prisoner Of Nothing 3. Angel One 4. Air 5. Green And Beautiful 6. Fall Back Down 7. Distance 8. Sacrifice 9. The Message 10. Fear

Produced, mixed & engineered by Luc Tellier (Simple Plan, The New Cities, Colorsound).