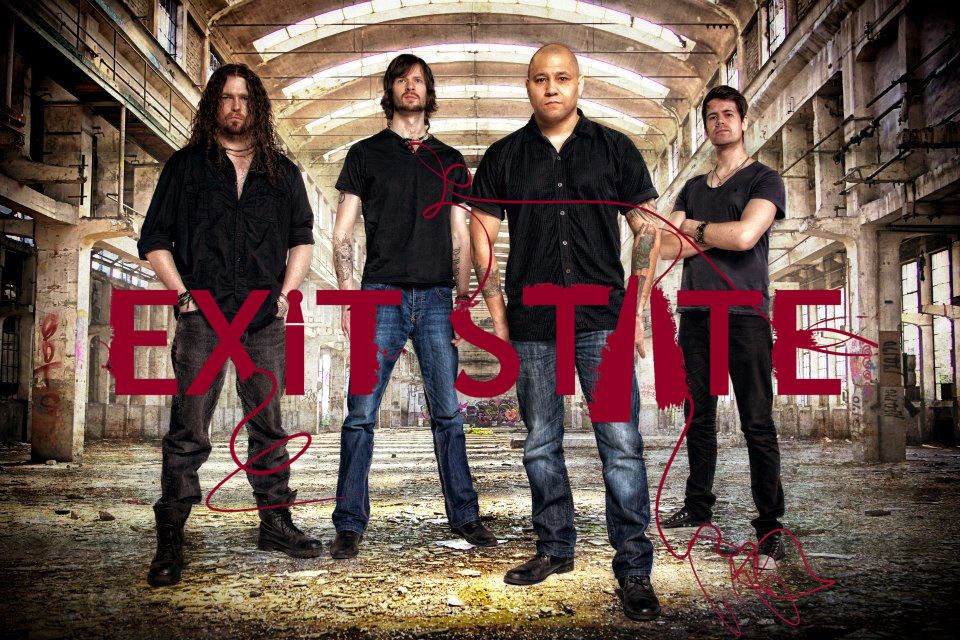 EXIT STATE - A video which reached the Number One spot on the Kerrang TV Chart Request Show, support slots with Michael Schenker, Blaze Bayley (Iron Maiden), Esoterica, Dave Evans (AC/DC), The Black Mollys, Forever Never, Black Spiders, Marseille; 2 successful album releases, a tour in Finland, festivals in Belgium and performances at Hard Rock Hell in the UK & Ibiza.... with all this you could be forgiven for thinking Exit State has been around for years. However, the early success of their high octane sound has been almost immediate. This is a modern rock band that appeals to a new young audience just as effortlessly as it does those who've been around the block for a few years.
In releasing debut album "Death Of A Rockstar" on King Prawn Records, in May 2010, Exit State made a clear statement of intent, reaching out from the local confines of hometown Burnley (Lancashire, UK), with epic tracks as well as radio-friendly catchy songs, and almost instantly punched above their weight. It was clear there was an urgency to their progression, demanded not least by a legion of early fans, and by album no.2 entitled "Black Veins" in October 2011, there was a step up to join Rocksector Records who helped unleash the band into Europe as well put Exit State on tour with Michael Schenker's Temple Of Rock which also featured former-Scorpions members, in addition to the guitar maestro himself. Exit State toured and promoted the "Black Veins" album, proving what many already knew to be true - here was an impossible-to-ignore genuine contender as a modern classic rock band for the new decade. A crowning glory of a performance at London's Shepherd's Bush Empire epitomised what this band had quickly become.
Nevertheless, the real treasure is just about to be discovered as those of us already privvy to the latest mixes of the new 3rd album "Let's See It All" will testify. Out of the box jumps as fresh, punchy, catchy, shining an example of modern rock as anyone could realistically expect. The new album contains skilled compositions, polished performances and enviable production. "Let's See It All" is to be released on 24th June 2013 - and Exit State comes-of-age.
The first single, "Pull The Thread", from the album was released in March 2013, together with a music video produced by the excellent Video Ink. A second single "Crystalline" is released May 2013 with various special download features and with proceeds donated to the chART - Children's Hospice Arts organisation - see details of chaRT below.
The "Let's See It All" album is released 24th June 2013.
Frontman Roy Bright comments "We've been blessed with handsome praise and recognition from fans and critics during the past 3 years but with the new album there's a genuine sense of excitement and within the band we feel that something special is about to be realised. Here is an album that does Exit State justice. We hope the fans will get as much from hearing this album as we have from making it".
Band members: Roy Bright - lead vocals & rhythm guitar, "Texas" Peat Hicks - drums and backing vocals, Phil Ireland - bass and backing vocals, Matt Harris - lead guitar.
For more information on Peat Hicks visit his own official website at
www.peat-hicks.com
For more information on Phil Ireland visit his own official website at http://www.philireland.com
In February 2013 Exit State was immensely proud to be appointed Official Patron of chART - children's hospice arts. Please click on the link below to learn more about chART and the amazing work it does in helping children and young people....