Announcements 19th September 2011
Line-up change : lead guitarist Adam Stephenson leaves Exit State with immediate effect, plus new show confirmed with Voodoo Six in Manchester.
We're very sad to announce that lead guitarist Adam Stephenson has decided to leave Exit State. His departure is with immediate effect. During the past few months Adam has increasingly felt that his general personal life & ordinary day-to-day commitments can no longer be balanced with the engagement of time & workload involved with the recording & touring commitments of the band.
We all felt it was important to get past the Album Launch party before Adam left & therefore this last weekends' amazing gigs in Manchester, Lincoln & Stoke went ahead as planned with our usual line-up & we thank Adam for hanging on in there with us. Equally, with the warmest of memories his important contribution to Exit State as a whole since the band's earliest days will not be forgotten.
Life for the band goes on un-interrupted including our upcoming tour schedule & we're delighted to be able to confirm the immediate appointment of a temporary new lead guitarist, the brilliant Ollie Cordwell from our labelmates Fantasist. We're sincerely grateful to Ollie for agreeing to help us out until the end of the year by which time we expect to have considered all applications for a permanent replacement. Fantasist's various commitments also continue without difficulty.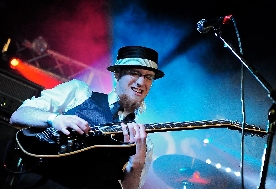 Ollie Cordwell at SOS Festival 2011
At the same time, we're excited to confirm that we'll be main support band to Voodoo Six on their upcoming tour date in Manchester on November 20th at Moho Live. We'll also be joined on that show by our labelmates Nightvision who've just released their excellent 2nd album "Consequence Of Sin".
For information on Voodoo Six & Nightvision visit these websites....
www.voodoosix.com
www.nightvision1000.co.uk
Finally, we still very much look forward to the official release of our 2nd album "Black Veins" on 3rd October.
Thanks for all your continued love & support,
Roy, Texas Peat & Phil.
Applications for the permanent lead guitarist role with Exit State should be emailed to mark_apps(at)yahoo.co.uk with your bio/CV.